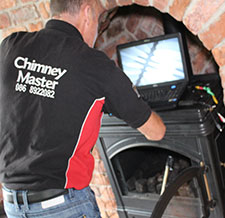 Our technicians will survey the chimney, investigate the problem
Provide reports for insurance claims or landlord compliance
Discuss with you the best options and make recommendations
Send you a quote for works required
Work carried out at a time that suits you
Offering complete chimney surveys for homes in Donegal, Sligo, Leitrim, Tyrone, Derry & Fermanagh.
Chimney Survey Service For You
Sometimes chimney problems require further investigation. If this happens our experts can provide chimney camera surveys to analyse the problem further.
We advocate the importance of chimney flue safety, including the dangers of carbon monoxide poisoning.
We can also carry out camera surveys for intensive insurance claims or landlord compliance and provide you with the necessary reports needed
What Is a Chimney CCTV Survey?
OUsing professional CCTV inspection equipment, we can quickly carry out a liner inspection and advise you on the best course of action and solution to any chimney problem discovered.
What Is Involved With A Chimney Survey?
Depending on the nature and design of your property, we will use one our chimney CCTV cameras, that capture detailed images of the condition of your chimney. 
Upon completion, our engineer will review and assess the footage before compiling a detailed report.
The report issued is certified by us and may be used by you to support any potential insurance claim or remedial work should you decide to retain our services.
Can You Provide The Works Required To Fix My Chimney?
We can provide you with the chimney repair services required to get your chimney back to working order.
We cover a wide area in the North West of Ireland for our chimney survey services and flue lining installation. Areas covered include:
Donegal
Sligo
Derry
Leitrim
Tyrone
Fermanagh
Why Choose Us
With over 30 years experience and a real focus on customer satisfaction, you can rely on us for your next project.
Financial Responsibility to Our Clients

Superior Quality and Craftsmanship

Quality and Value to the Projects We Deliver

Highest Standards in Cost Control

On Time and on Budget

Real Focus on Customer Satisfaction
Got A Problem With Your Chimney?